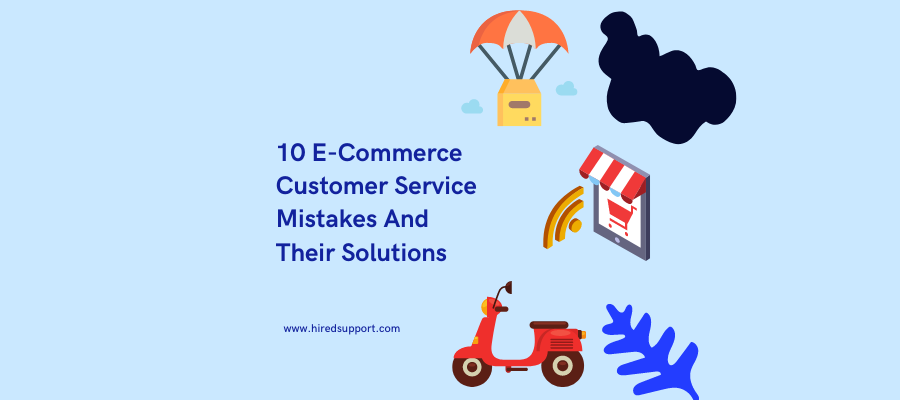 81% of customers feel valued if a chat box appears while they're on a product hunt. Practically, only 19% think that customer support in today's world exceeds their expectations. While these stats tell us about the inadequate state of the customer service world, they also tell us about the huge competitive edge good customer service can offer. Businesses don't pay attention to the little details and therefore, they don't achieve their true potential. In this blog, learn about the ten most common mistakes that companies make when it comes to e-commerce customer service and how to avoid them.
Creating and maintaining an exceptional eCommerce customer service experience takes time, effort, and commitment. Unfortunately, many store owners make common mistakes that alienate their customers and end up costing them valuable revenue. 
Below are ten of the most common mistakes made by eCommerce stores and how to avoid them.
What is E-commerce Customer Service
E-commerce customer service is the support and assistance provided to customers throughout the online sales process. 
This is not only limited to any queries that a customer might have about a product they've already purchased, but it also includes support throughout the customer journey.
E-commerce customer service includes addressing customer queries and concerns throughout the pre-purchase stage, the order stage, and the post-purchase stage.
Not only this, but it also includes managing feedback to build trust, strengthen customer loyalty, and enhance their overall shopping experience.
Online customer support for e-commerce is typically provided through various channels like email, phone, live chat, and social media.
Good e-commerce customer service is important because it helps gain repeat customers, ensures the long-term success of a business, and improves customer loyalty.
10 Common E-commerce Customer Service Mistakes
Slow Response Times
In today's digital era, customers expect instant responses to their queries. They are not to be blamed either – did you sit back and notice how much our attention spans have declined over time?
Well, that makes an impact on any business operating online. HubSpot reveals that about 90% of customers today expect an instant response to their queries. 
Slow response times in the world of e-commerce can decrease sales, impact customer retention, deteriorate brand image, and decrease customer loyalty.
An up-and-rising e-commerce business has its reasons for slow response times. However, customers aren't as forgiving in today's world, where competition is rocketing on a daily basis. 
Solutions to Slow Response Times: 
Staffing:

You can hire in-house customer support agents for your company. 

Outsourcing:

A cheaper and better way to improve your response time is to outsource your e-commerce customer service to a third party. Read more about outsourcing

here

.

Self-help resources:

Make sure you have a comprehensive FAQs section, a hands-on or video tutorial, and other self-help resources available on the website.

Templates:

You can create templates to lower response times. Make sure these templates can still be personalized by your team members.
Inadequate Staff Training
If your customer support staff isn't trained properly, they might provide incorrect or incomplete information to the customers, leaving them unsatisfied.
Staff training is essential when it comes to customer service because customers expect the representatives of a business to know the answers to all their questions.
For example, in customer service outsourcing companies such as Hired Support, every employee goes through a robust training program before they're hired.
This provides you with a further competitive advantage in terms of customer service since your competitors might not be focusing on these minor but important details.
Solutions to Inadequate Staff Training:
Onboarding Program:

You should develop an onboarding program for new employees that comprises company values, covers product knowledge, and teaches communication guidelines. 
Ongoing Training:

Make sure to refresh the knowledge of your existing employees through e-learning courses, webinars, and workshops. 
Mentorship:

You can pair up your new hires with experienced customer service representatives as this will provide the former with feedback, support, and encouragement.
Lack of Personalization
In the world of order numbers, remember your customer's name.
Personalized e-commerce customer service increases customer satisfaction scores (CSATs). It helps make the customer feel valued, increases brand loyalty, boosts customer retention, and builds rapport.
Most businesses only refer to their customers through order numbers. It is important to call customers by their names and be familiar with their purchase history.
As an expert in the field of customer service, a lot of times I hear customers complain about the representative being unaware of their purchase history. 
This is because the longer it takes for a customer to explain their problem, the less valued and convenient they feel.
Solutions to Lack of Personalization:
Address customers by their names.

Instead of referring to your customers by their order numbers, make sure to take their names.
Offer personalized suggestions.

Collect customer data and suggest products and services that align with their needs and interests.
Track customer interactions.

Use customer relationship management (CRM) software to track and manage customer information such as their names and purchase history.
Inconsistent Communication Channels
E-commerce customer service spans different channels of communication. These can include social media, emails, live chat, or phone.
It all depends on the customer's preference – some might prefer calling, some might prefer a live chat, and others may prefer emails.
Throughout these different channels, you need to ensure consistency. 
A consistent quality of communication throughout different channels is important since customers may choose to contact your business through any convenient means.
It also helps create a unique brand identity for your business and gives you a massive competitive edge.
Solutions to Inconsistent Communication Channels:
Use CRM:

As I've mentioned above, using CRM helps you keep the customer data centralized in one place. Use that data to ensure consistent communication across all channels.

Training:

Train, train, and train! Make sure that your customer support employees are well-equipped to deal with all modes of communication.
Evaluation:

Review three factors when it comes to evaluating customer service – response times, tone, and content. Provide proper feedback based on your evaluation.
Ignoring Customer Feedback
What better way to understand what you're lacking in customer service than customer feedback itself? 
When customers tell you what you need to improve, work on it. 
Customer feedback helps in two ways – first, it gives you a first-hand account of what you need to work on. Secondly, it makes the customers feel valued.
Furthermore, customer feedback helps you with the following as well:
Identifying pain points

Understanding customer expectations

Measuring customer satisfaction

Validate business decisions
Solutions to Ignoring Customer Feedback
Create a feedback system.

Make sure that you have set up a proper feedback system in place for your customers in the form of surveys, feedback forms, and social media monitoring.

Outsource your e-commerce customer service.

If your in-house team is lagging behind in implementing customer feedback, outsource it to a company. 

Respond to feedback:

Remember to respond to customer feedback, even if it is negative at times. Thank them and let them know how you plan on implementing it.
Read how Healthy Stuff increased their customer satisfaction scores to 90+
An Unclear Return and Refund Policy
An unclear refund policy is a huge no-no. It leads to a huge decrease in customer trust and retention. 
This can be in the form of an inaccessible refund policy, such as one hidden on the website, or an ambiguous one, such as one open to multiple interpretations. 
Furthermore, a bad refund policy might also be because of non-compliance. This can result in potential lawsuits and customer dissatisfaction.
A bad return and refund policy also leads to an increased number of customer inquiries. This can increase the workload for your customer sales representatives (CSRs), increasing customer response rates.
Solutions to an Unclear Return and Refund Policy:
Use clear language.

Make sure that you have a refund policy written in simple words. No need to go over the board with legal or technical jargon. 
Specify terms.

Write the terms and conditions for a product return in clear words. Make sure to clarify the timeframe for returns, the item condition, and any other conditions. 
Make it accessible.

Make sure that your return and refund policy is written on a prominent spot on your website. Also, add a link to it during the checkout process.
Unclear Understanding of Client Demographics
It is simply bad sense to try and run an e-commerce website without a proper understanding of your client demographics. 
An unclear understanding of the client base can lead to ineffective marketing, poor customer service, wrong pricing, and ineffective personalization.
Out of all these, your e-commerce customer service takes the biggest hit. 
Language is constantly changing, and with the world turning into a global village, businesses have a diverse client base. 
Without a proper grasp of your diverse audiences, your e-commerce customer service representatives might push customers away by saying something culturally insensitive. 
Solutions to an Unclear Understanding of Client Demographics
Conduct market research.

Study your target audience properly – their preferences, needs, and pain points. You could conduct surveys or interviews as well.
Employ analytics tools.

Tools such as Google Analytics can tell you a lot about your client demographics. This will help you make data-driven decisions. 
Create buyer personas.

After research, create personas and customize your products, marketing, pricing, and e-commerce customer support accordingly.
Inadequate Self-Help Resources
Self-help resources for an online store include a frequently asked questions (FAQs) page, video tutorials, product manuals, glossary pages, and a live chatbox on your website.
As a customer, we need information presented to us right away. We shouldn't have to look for it – purchase should be a smooth process, not a complex one.
When customers are unable to find quick resolutions to their problems, they try to find a competitor who can solve their issues.
That's why, having adequate self-help resources on your website is one of the most important best practices when it comes to e-commerce customer support. 
Solutions to Inadequate Self-Help Resources:
Create an FAQ page.

Right off the bat, create a well-researched, comprehensive FAQ page that answers the most common questions about your products, shipping, and returns. 
Use clear language.

Again, no need to delve into technical jargon. Your product descriptions should be clear and to the point. Any questions should be answered on the FAQs page above.
Monitor customer feedback.

As discussed above, there is no better source for constructive suggestions for your e-commerce business than customer feedback. Closely monitor it, and based on that, develop resources such as tutorials and product guides.
Over-promising and Under-delivering
While your customers will already expect perfection from you, don't go a step further to make even larger claims that you can't back.
It's simple math – you set unrealistic expectations for your customers, and they end up disappointed when you don't meet them. 
When customers feel misled, they won't share your brand name with others in a positive light. Ultimately they may switch to a competitor and cause your online store financial losses.
Therefore, over-promising and under-delivering directly lead to a decline in repeat customers, customer retention, and customer loyalty. 
Solutions to Over-Promising and Under-Delivering
It's pretty simple –

don't claim what you can't back

. Set realistic expectations, avoid making exaggerated claims, and be transparent.

Prioritize quality.

Focus on over-delivering and under-promising. Exceed the expectations of your customers by focusing on higher-quality products. 
Set KPIs:

Set key performance indicators (KPIs) for your online store customer support team and ensure they meet customer expectations on a regular basis. 
Improper Measurement of Customer Service Performance
There are multiple benchmarks that help measure customer service performance.
These metrics include customer satisfaction score (CSAT), first response time (FTR), average resolution time, net promoter score (NPS), and others.
Improper measurement of your e-commerce website can lead to misguided decision-making, inefficient resource allocation, lower customer satisfaction, and hindered growth.
Solutions to Improper Measurement of Customer Service Performance:
Measure the correct metrics.

Make sure that you're measuring those metrics that matter the most for your e-commerce business specifically.
Set SMART goals.

Specific, measurable, achievable, relevant, and time-bound goals are important for accurate measurements. 
Use tracking tools.

Use customer service software that has built-in tracking for the metrics mentioned above. These may include Zendesk, Freshdesk, Intercom, and HappyFox. 
Conclusion
To wrap things up, handling e-commerce customer service can be tricky, but steering clear of the above-discussed mistakes can also ensure your business's long-term prosperity. 
Tackling issues like slow response times, insufficient staff training, impersonal service, inconsistent communication, neglecting customer feedback, vague refund policies, and a bad understanding of your target audience can greatly improve the customer experience and raise satisfaction levels.
Furthermore, with the right self-help resources on the website, managing customer expectations, and constantly keeping an eye on your customer service metrics, you'll encourage customer loyalty and boost repeat business. 
Finally, delivering top-notch e-commerce customer support not only sets you apart from competitors but also drives your online store's growth and success. So, make sure to learn from these mistakes and put the right solutions in place to create an amazing online shopping experience for your customers.
Outsource Your E-commerce Customer Service With Us
Frequently Asked Questions (FAQs)
Have faster response times, train your team, have self-help resources on the website, act on customer feedback, and monitor and evaluate team performance regularly.
SEO, content marketing, social media marketing, email marketing, customer reviews, good customer service, and a good user experience will help you gain customers in e-commerce.
Choose the right niche, research your target audience, select an appropriate e-commerce platform, ensure a user-friendly website design, implement effective marketing strategies, and provide exceptional customer service.
Note: Shamoon Younas contributed to a previous version of this post.