81% of customers feel valued if a chatbox appears while they're on a product hunt. Practically, only 19% think that customer support in today's world exceeds their expectations. While these stats tell us about the inadequate state of the customer service world, they also tell us the huge competitive edge good customer service can offer. Outsourcing customer support is one of the best ways to gain that edge. Keep reading to learn more!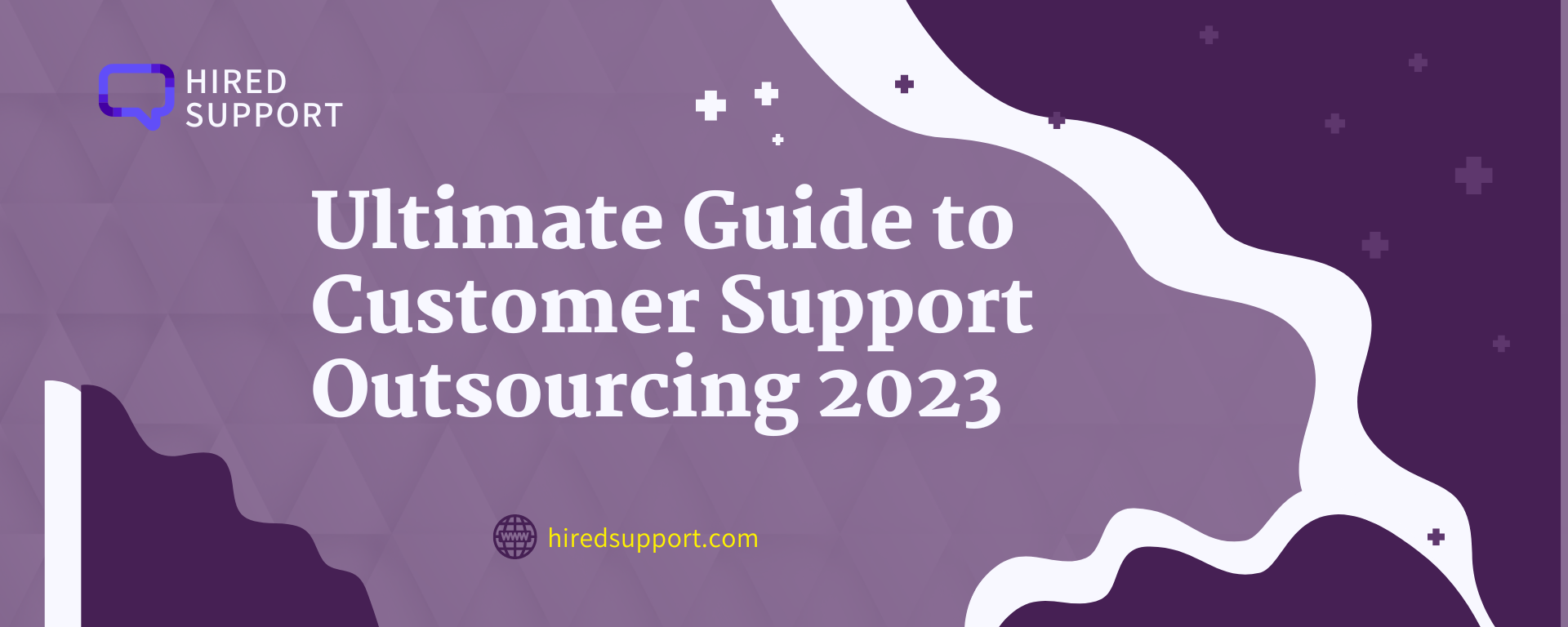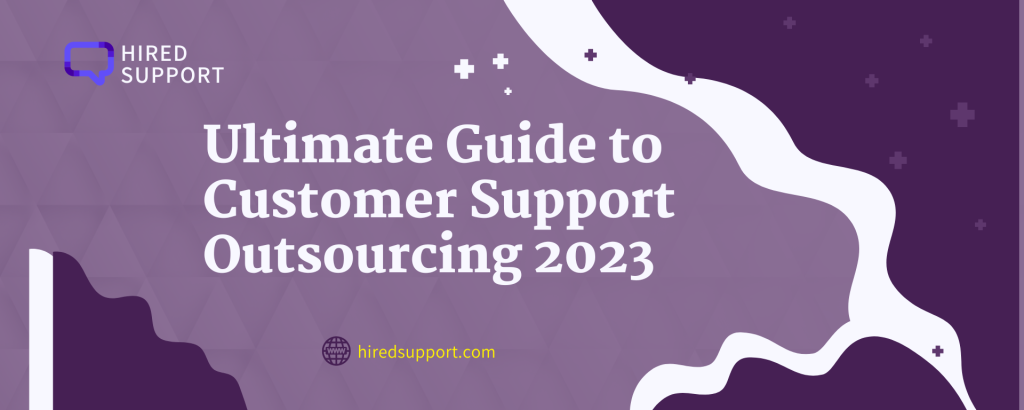 You know that frustrated feeling when you're browsing a website but can't find the information you need?
Or worse yet, when you have a pressing query but there's no chat option, no response to the email you sent, and the phone lines are always closed each time you call? 
As a business owner or manager, the last thing you want is for your potential customers to feel that way. That's where customer support outsourcing comes in. 
Outsourcing is becoming increasingly popular among businesses of all sizes. 59% of businesses outsource to cut costs, while 57% of businesses outsource to focus more on core operations, according to a Deloitte survey. 
By partnering with a skilled customer support outsourcing agency, you can provide your customers with the support they need.
This includes 24/7 customer support and takes away the worries of managing an in-house team. And the benefits don't stop there.
In this post, we'll explore the top reasons why outsourcing customer support is a must for businesses of all sizes. 
Furthermore, this guide will also take you step by step on how to take action to get started today.
Why do Companies Outsource Customer Support
The primary reason companies outsource customer support is to minimize costs and free up resources.
Outsourcing allows companies to access skilled professionals and advanced technologies.
In return, you don't even need to invest in recruitment, training, and infrastructure.
Additionally, outsourcing companies often operate round-the-clock, enabling businesses to provide 24/7 customer support.
What is Customer Support Outsourcing
In layman's terms, outsourcing customer service refers to the practice of hiring a third-party company to handle customer support tasks.
These tasks can include answering queries, resolving complaints, and providing assistance.
It is becoming increasingly popular among businesses of all sizes and industries.
What Services Do Customer Support Outsourcing Companies Offer
The services offered by these companies are many.
These include live chat support, emails and tickets, inbound and outbound calls, technical support, social media management, and back-office support.
10 Reasons Why You Must Outsource Customer Support
24/7 Support Coverage
It is understandable that providing 24/7 customer support is fairly difficult for an in-house setup.
However, companies that offer outsourced support services ensure that customers can receive assistance at any time of the day or during the night. 
The reason is that these firms have operators from different time zones who can work remotely.
This naturally leads to a smooth customer experience and increased customer satisfaction. 
Recommended Reading: 24/7 Customer Service: Not Just a Luxury in 2023
Increased Efficiency
Who do you think would perform better in a specific field? Someone who's new to it or someone who's an expert?
It's clear that experienced support agents will perform better when it comes to dealing with customers.
That's simply because that's what they're trained for!
This leads to happier customers leaving your platform, and more likely to remember your business.
Furthermore, once you've gotten started working with a reputable third-party customer service agency, you can focus more deeply on your company's internal functioning and improve efficiency.
Cost Savings
Staffing, maintenance, upgrades, infrastructure, training, and a lot of headaches! As compared to hiring new staff and spending resources in training them from scratch, outsourced support agents can be a cost-effective solution. 
You could save on salaries, benefits, and other overhead costs associated with in-house employees.
Access to Skilled Operators
Experience outdoes knowledge every time. Customer support agents working in specialized firms go through a full training program before they're employed. 
Outsourcing your customer support not only saves you a ton of time and money in training programs, but it also gives you access to an already skilled workforce. 
Multilingual Support
The world is a global village. Globalization has made it easier for people from diverse backgrounds to get access to personalized services. Companies that offer these services have a diverse employee base. 
These customer support agents are fluent in a number of languages, making it possible for them to answer queries in the customer's preferred language. 
Moreover, this will also help your company avoid the costs of hiring agents who are proficient in multiple languages.
Scalability
There are times when business is-a boomin'! During such fortunate times, the sudden surge can lead to bad response times for customer queries. What's the point of high website traffic when visitors are rage-quitting? 
Readily available resources are necessary to deal with such times. Outsourcing live support helps scale your business to the level required to deal with the increase in customer inquiries and web traffic. 
Having outsourced your live customer support to a reliable partner saves you the trouble of impromptu hiring and makes scaling a worry of the past. Bring on the traffic! 
Reduced Response Time
A study suggests that gen-Z is the fastest to hang up a call while on hold. This is a great insight into the customer expectations of the current generation. 
It can be readily deduced that generation Z wants results within the snap of a finger! Another report by Freshworks indicates that 80% of the customers wanted quicker responses from the company. 
With a team working round the clock, outsourced live support agents can ensure personalized, timely responses to customer queries. 
Additionally, outsourcing providers can offer tools such as canned responses and knowledge bases to help operators respond more efficiently and effectively, further reducing response times.
Detailed Analytics
Let's be honest, you're on the lookout for as much improvement to your business as possible; that's why you're reading this blog! An important benefit of outsourced live support is that these operators can provide you with insights into your customer behaviors, preferences, and pain points. 
Through these analytics, businesses can recognize areas that need improvement. These companies have access to tracking software and analysis tools for their interactions with customers. 
Using this data, you can make data-driven decisions and launch your business in the stratosphere!
Increased Focus on Core Operations
It is a no-brainer that once you've taken care of a massive chunk of your project, it gives you more time to focus on the rest of it. 
Similarly, once you've outsourced your customer service operations to a responsible third party, your employees will have a reduced workload, improved productivity, and a deeper focus on your unique selling point (USP). 
This can lead to more sales and conversions. The question is, how to find a partner whom you can trust with your customer support? Keep reading for the answer!
Increased Conversions and Sales
Let's finally address the elephant in the room – how can outsourcing customer support boost conversions? 
Each factor that we've discussed above – personalized and immediate support, increased customer satisfaction, retention, and loyalty, increased focus on core operations, deeper insights into the target audience, and reduced response times – all contribute to an increase in conversions for your business. 
Not only these, but an overall good customer experience (CX) leads to higher profitability for your business and a competitive advantage over your competitors. Additionally, it helps create a good brand image, leading to more exposure and customers.
5 Factors to Remember When Outsourcing Customer Support
Quality of Operators
Let me put this plainly: good customer service leads to higher revenue.
According to a study, companies that offer exceptional customer experiences outperform their competitors financially, with 89% of them reporting significantly higher results. 
It isn't rocket science; you must've been an impatient customer at some point, you know how satisfying it is to have your query answered quickly.
That's why the quality of your outsourced customer support needs to be exceptional. Long story short, it improves customer satisfaction, brand loyalty, cost-effectiveness, and sales.
So how can you judge the quality of a firm offering outsourced chat agents? 
Look at their experience

– case studies, references, reviews – all kinds of track records.

Conduct a trial session with them.

Assess their communication skills, product knowledge, and most importantly, their problem-solving abilities. 

Evaluate their training.

You can do this by simply inquiring about their training program. A firm that claims to offer the best outsourced live chat operators will also have a robust employee training program. 

Look at their key performance indicators (KPIs).

These are performance metrics such as average response time, customer satisfaction scores, and first-contact resolution rates. These can include customer satisfaction (CSAT), net promoter score (NPS), and customer effort score (CES). 

If none of the above solutions work for you, simply

ask the firm to connect you with any of their current clients.

Gather their feedback on the quality of the operators' service and proceed from there.
Security and Confidentiality
It is necessary to ensure that the data of your customers is secure and confidential in the hands of a third-party service provider. Do the following to be safe than sorry:
Inquire the firm about the security systems in place.

Do they have data encryption set up? What about access controls? Intrusion detection systems? Even with all these, do they have a plan B in case things go south? In case of a data breach, they should have a recovery plan to make sure things keep running smoothly.

Verify their compliance with industry standards and regulations

such as GDPR, HIPAA, or PCI DSS, depending on your geographic location and industry. Ask for certification as well.

Review their contracts

and make sure that they address confidentiality and data protection clauses in accordance with your business's requirements. Additionally, make sure that the party has appropriate liability and indemnity insurance coverage.

Conduct security audits.

Audit the company's security controls and data protection practices after regular intervals. If you are too paranoid, hire an external auditor to conduct an independent audit of the provider's security measures.

Seek recommendations from other businesses.

Again, if nothing works for you, connect with other businesses that have outsourced their customer support services to the same firm. Gain insights from them and proceed towards making a decision.
Integration with Existing Systems
Before outsourcing customer support to third-party service providers, you'll have to ensure that the firm you want to hire seamlessly integrates with your existing systems in place. This will save you the nuisances of having to start from scratch.
Follow the following steps to be sure:
Assess their integration capabilities.

Before you opt for a service provider, inquire about their integration capabilities and make sure that their systems can accommodate yours. Ask them about the integration process and any necessary technical requirements. 
Review their APIs.

Application Programming Interfaces (APIs) act as intermediaries between two software systems. Ask the service provider if they offer APIs that allow for seamless integration between the systems.
Conduct testing.

Before deploying the service provider's customer support system, conduct testing to ensure that it integrates seamlessly with your existing systems. This can include testing for data transfer, compatibility, and functionality.
Flexibility in Pricing and Packages
A company being flexible in pricing and packages is a big plus point. Based on your business size and average customer inquiries, ask the support-as-a-service provider if they offer custom prices. 
Furthermore, assess pricing transparency to be sure that there are no hidden costs and ask for clarification on any unclear elements. 
Language Capabilities
Unless an issue is communicated properly, its resolution will not be easy. It is likely that your customer base will comprise people from diverse backgrounds. 
If your customer support is well equipped with diverse language capabilities, it will enhance the customer experience and lead to better issue resolution. 
You can assess the language capabilities of the third-party service providers by inquiring about their language support and requesting sample chats.
5 Simple Steps to Get Started with Outsourcing Customer Support
Define your needs
Before outsourcing customer support, define your needs and expectations. Make sure to outline the scope of your business, the languages you require, the hours of operation, and the issues that the third party should handle.
Research Potential Providers
Research potential live support providers who can meet your needs. Consider factors such as their experience, reputation, pricing, security measures, language capabilities, and customer support.
Take a Look at our Top 10 Customer Service Outsourcing Companies
Evaluate Providers
Once you have a list of potential providers, evaluate them based on your needs and priorities.
Ask for references, reviews, and case studies to assess their performance and reliability. Look for providers who offer flexible pricing, customization options, and scalability.
Select a Provider
After evaluating the providers, select one that aligns with your needs and budget. Negotiate terms, discuss pricing and contract details, and sign an agreement.
Set up Your Platform
Once you have chosen a provider, work with them to set up your third-party outsourcing platform.
Provide the necessary access and information, such as website integration details, standard operating procedures, knowledge base, canned responses, and brand guidelines. 
5 Challenges Faced During Customer Support Outsourcing
While outsourcing customer support has multiple benefits as discussed above, companies might stumble across some challenges that should be addressed. Keep reading to make an informed decision.
Language and Cultural Barriers
One of the most significant problems faced while hiring a third-party customer support vendor is language and cultural barriers.
It can be challenging to find outsourcing companies that can provide customer service representatives who are fluent in the same language as your customers.
Even when language is not a barrier, there may still be cultural differences that could lead to misunderstandings or miscommunication.
Quality Control
Maintaining the same level of quality and consistency in customer service can be difficult when outsourcing to another company.
There may be issues with training, monitoring, and feedback that can impact the quality of service provided. That's why proper research is necessary to avoid such issues beforehand.
Lack of Flexibility
Outsourcing customer service may provide less flexibility in responding to customer inquiries or handling complex issues.
It may be challenging to get the same level of customization and personalization as an in-house team, especially if the outsourcing company is following a strict script or protocol. During your vetting process, make sure to discuss this point specifically with your options.
Security Concerns
Sharing sensitive information with an outsourcing company can be a security risk.
There may be concerns about data privacy and confidentiality, which could lead to potential breaches and damage to a company's reputation.
Make sure that the company to which you are outsourcing is compliant with regulations concerning customer data protection. 
Communication and Coordination
Communication and coordination between the in-house and outsourced teams can be challenging, especially when dealing with different time zones or conflicting schedules. 
It may be challenging to get everyone on the same page and ensure that the outsourcing team understands the company's priorities, messaging, and brand values.
To address these challenges, it's essential to thoroughly vet and communicate with the outsourcing company before hiring them. 
It's also important to have clear goals and expectations, set up regular check-ins and feedback sessions, and have a plan in place for handling any potential issues or concerns that may arise.
Establishing great team communications between your internal team and your remote outsourcing team can bridge the gap and create an outsourcing support team that feels so seamless that you would think it's in-house.
Get a Free Trial with HiredSupport
Conclusion
In conclusion, if you're looking to decrease your operating costs while still increasing your customer satisfaction and website conversions, outsourcing customer support is the way to go!
By partnering with a reliable and experienced third-party service provider, you can offer your customers real-time support that is tailored to their needs and preferences. 
It's important to find an outsourcing company that can speak your brand's messaging in the exact way you want it to be done to match the customer experience you want your customers and clients to have.
This will lead to a boost in your conversion rates, brand reputation, and ultimately brand loyalty.
Moreover, outsourcing your customer services frees up your time and resources, allowing you to focus on other critical business areas.
So, if you want to give your website a competitive edge and stay ahead of the game, now is the time to outsource customer support and start seeing results!
FAQs