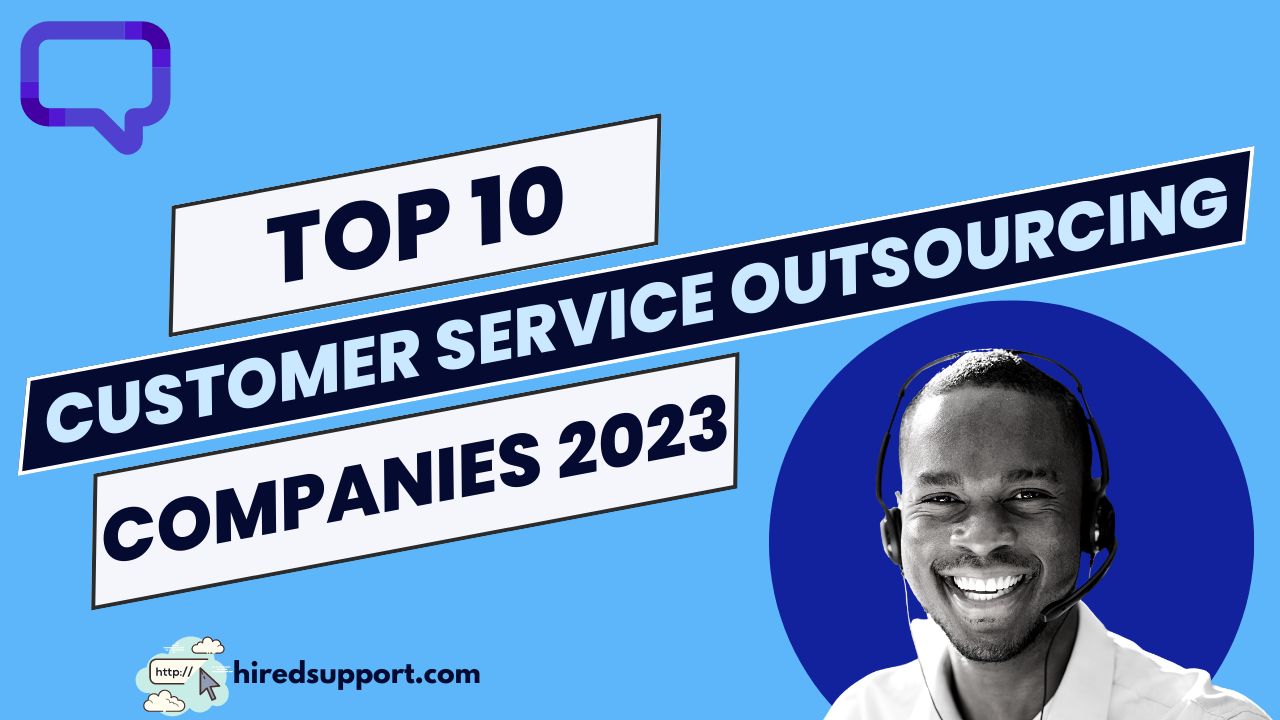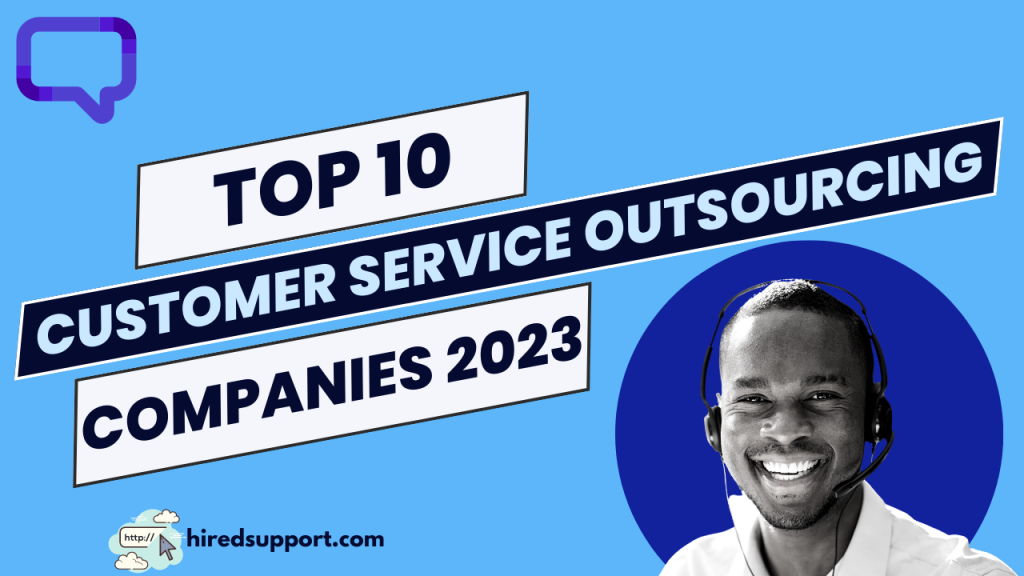 As businesses expand, it becomes increasingly difficult to handle customer support in-house. Outsourcing customer support helps you provide the best service to your customers while you focus on growing your business. Below we've researched and compiled a list of the top 10 customer support outsourcing companies that you can hire to streamline your operations and improve customer satisfaction. So keep reading and make an informed decision!
What Makes a Customer Support Outsourcing Company the Best
There are several factors that combine to help an outsourcing company reach the top. These include but aren't limited to expertise, technology, flexibility, and scalability.
The most successful outsourcing companies have a deep understanding of their client's needs and can tailor their services accordingly. 
They also leverage the latest technologies, such as artificial intelligence and machine learning, to enhance customer experiences.
Moreover, they offer flexible pricing and scalable solutions that can adapt to changing business requirements.
Keep reading as we dive deeper into these topics and explore the key features that make a customer support outsourcing company stand out.
We'll also provide insights into the top outsourcing companies in the industry and help you make an informed decision for your business. So, let's get started!
Know What to Look for: The Ultimate Guide to Outsourcing Customer Support 2023
Top 10 Customer Service Outsourcing Companies 2023
The following list is based on multiple factors. These factors range from customer satisfaction scores (CSAT) to client reviews and employee satisfaction.
While we discussed these factors in detail in our ultimate guide to outsourcing customer support, these include the security measures in place for customer data, the time of coverage and the number of languages offered, pricing, and integration with existing systems.
I have also included client and employee reviews for each company for a better assessment of the company under scrutiny. 
HiredSupport
Launched in 2016, HiredSupport is a business processes outsourcing (BPO) firm that offers outsourced customer support services in the form of live chat agents, hybrid support agents, and more. 
For companies looking to outsource their customer support then, it is no surprise that with such a vast experience in the field, we're one of the best in the market. 
What sets us apart from our competitors is that we use the latest technology and tools to ensure that our clients receive the highest quality service. 
Not to toot our own horn, but we're rated 5 out of 5 stars on Clutch, a trusted B2B ratings and reviews platform. We also have a 90+ CSAT score. 
Benefits of Hiring HiredSupport
HiredSupport offers seamless integration with almost all SaaS – whether you want to outsource live chat, help desk, or CRM, we have it all. As we've mentioned on our

live chat agents

page

, we can even adapt to any custom or in-house-built software!

The company supports all kinds of e-commerce platforms – Shopify, Amazon Seller Central, Woocommerce and so much more.

For more specific purposes, HiredSupport also offers retail customer service, virtual answering services, outbound services outsourcing, and many others!

We're capable of reducing costs by up to 70% while consistently increasing Customer Satisfaction Score (CSAT) for our customers by up to 92% and higher.

Our customer support team and chat operators are highly experienced, which gives us a strong competitive advantage. 

Every agent working at HiredSupport goes through a detailed screening process and then a robust training program. 

We offer

custom pricing

as well, depending on the size of your business. This is HiredSupport's unique selling point – we have a no-compromise policy on the quality of our services while being affordable at the same time. 

We're highly scalable – meaning that our services can scale according to the changing scale of your business.
Helpware
Helpware is a customer service outsourcing company, meant to serve both small and large-scale businesses.
It was established in 2015 with the aim of helping businesses scale and providing exceptional customer service. They are headquartered in Lexington, Kentucky, and have multiple offices in other states as well. 
They're rated 4.5 on Glassdoor, a rating platform for employees, and 4.8 out of 5 stars on Clutch.
Benefits of Hiring Helpware
Helpware offers multilingual customer service for its clients. 

They are a people-centric company. This allows them to understand the expectations and experiences of their customers on a personal level.

The firm has a secure infrastructure to ensure its customers' privacy and security. 
Influx
At the moment, Influx is leading globally in the field of support as a service. They have a huge, globally spread-out network of mostly remote chat support agents.
Whereas with other competitors in this niche, you need to draw up contracts to use their services, Influx doesn't work that way. It is changing this model by allowing its customers to pay as they go only for the support they require. 
It is rated 3.6 on Glassdoor and 4.9 on Capterra.
Benefits of Hiring Influx
With Influx's simple pay-as-you-go payment model, small businesses can also avail of their services without the trouble of having to draw contracts or pay upfront.

They offer chat agents proficient in multiple languages across the globe. 

They're highly flexible and can compensate for any sudden changes in the scale of the business.
SupportYourApp
SupportYourApp is also one of the giants within the support as a service industry.
It was established in 2010 in Kyiv, Ukraine originally, and now comprises a multinational team spread out across the globe.
They offer customer service outsourcing and call center support amongst other services.
It is rated 5 stars on Clutch.
Benefits of Hiring SupportYourApp
As stated on the official company website, SupportYourApp prioritizes the highest levels of security for its clients. They are ISO, PCI, and GDPR compliant, so you can trust them with your data. 

The company offers 24/7 support with shared and dedicated agents, based on the package in which you're interested.

They offer numerous specific services such as answering services for small businesses, retail customer service, tech support, B2B call centers, and many others.
SupportNinja
SupportNinja is one of the most famous customer support outsourcing firms out there in the market.
Founded in 2014 and headquartered in Dallas, Texas, it provides many services such as back-office support, customer service, and technical support.
With the passage of time, SupportNinja opened two offices in the Philippines.
It is rated 4 out of 5 on Glassdoor and 3.9 on Indeed, a global employment website.
Benefits of Hiring SupportNinja
SupportNinja understands that every business has its own requirements. Therefore, they offer customized solutions tailored to

your specific needs. 

They offer a dedicated support team for your firm rather than shared chat agents.

Due to the large number of employees they have, SupportNinja can close up to 1000 tickets within a week.

The company is PCI-DSS and SOC II compliant, so the business doesn't have to worry about security or accreditations.
Recommended: The Relationship Between Customer Service and Revenue
ModSquad
In my honest opinion, ModSquad has the best website UI at the very least. For me, that matters.
The company was established in 2007, making it one of the oldest players in the field of outsourcing customer support. The majority of their agents work remotely, and they offer services apart from customer support as well.
These services include content moderation, community management, and social media. 
ModSquad is rated 3.4 on Indeed and 3.5 on Glassdoor. 
Benefits of Hiring ModSquad
Their model is data-driven. This means that when your first customer interacts with them, they start monitoring your challenges, tools, metrics, and other benchmarks. This helps them align themselves with the business's goals.

Their tagline is, "we put the

custom

in customer experience". This says a lot – they customize every strategy and tactic in accordance with your needs.

Rather than just handing your customer support project to their agents like many other companies do, they let agents compete for it. This ensures that their service is highly personalized and perfectly caters to your expectations.
PartnerHero
PartnerHero is also one of the top customer support outsourcing companies.
Not only do they offer customer support, but they also offer software quality assurance (QA).
Furthermore, what makes them special from the rest of the companies is that they have the highest employee retention rate in the industry. That means something!
They're rated 5 on Clutch based on 1 review. 
Benefits of Hiring PartnerHero
PartnerHero offers software QA through regression and snapshot testing, as well as refractor tests. This makes them unique within the industry.
They also offer other kinds of QA tests such as user acceptance testing, localization testing, and black box testing.

As compared to its competitors, PartnerHero is relatively affordable while also guaranteeing high-quality services. 

The company offers 24/7 offshore, nearshore, or onshore options, depending on the business requirements.
Helplama
Similar to what HiredSupport does, Helplama also offers customer support and live chat answering services.
Not only that, but they also offer email and phone support. They were founded in 2016 and are currently headquartered in San Francisco, California. 
I couldn't find as many reviews and ratings for them, although they're rated 5 on Glassdoor based on three reviews.
Benefits of Hiring Helplama
Helplama is very affordable as compared to other competitors in their arena. This gives them a competitive advantage over the bigger players in the industry. 

The firm offers multiple services apart from customer support. These include telemarketing support and data entry services. 
Unity Communications
Founded in 2009, Unity Communications is a US-based international BPO headquartered in Gilbert, Arizona.
They're also one of the largest players in the customer service outsourcing industry. They offer both nearshore and offshore coverage and are spread across the globe with locations in the Philippines, Mexico, and Costa Rica. 
They're rated 4.9 on Clutch based on 27 reviews, which is pretty sweet.
Benefits of Hiring Unity Communications
Being one of the oldest in the market, Unity Communications is much more experienced than its competitors. This gives them a huge competitive edge already.

Contrary to how you'd worry about a rookie firm, their experience helps you operate your business without worrying about how the third-party vendor you've hired is performing.
Remote CoWorker
As their name suggests, Remote CoWorker is headquartered in Hollywood, Florida while their virtual agents work remotely from the Philippines.
It was founded in 2013 according to Clutch, where they're rated 4.8. They're also one of the giants within the customer support outsourcing industry.
As compared to the rest of their competitors, their unique selling point is that they have dedicated virtual agents (VAs) for their clients. 
Benefits of Hiring Remote CoWorker
Since they have virtual agents, there is less reliance on automation. Human connection is given priority and that leads to a much better CX.

Having VAs on board helps minimize issues concerning time zone differences, thus reducing the response rate.
Can't make a decision? Request a custom quote now
Takeaway
From the excellent customer service and communication skills of HiredSupport to the highly customizable and scalable solutions offered by Influx, there is a company for every type of business.
Additionally, the use of cutting-edge technology and 24/7 support ensures that your customers receive the best experience possible.
As we've discussed above, outsourcing customer service can also provide cost savings and allow your business to focus on its core competencies.
The ability to scale up or down quickly, depending on business needs, can also be a significant advantage in a fast-paced and ever-changing market. 
When you think of hiring a firm, keep in mind these factors: does the firm offer scalability? Does it offer a good price? What about the time zones? Do they clash with your customer base? Are they secure and safe to work with? Are they compliant with legal regulations?
All these factors come into play when you think about making a decision. Also look at factors such as company reputation, client reviews, and their ability to meet your specific needs.
In conclusion, outsourcing customer service can be a game-changer for businesses looking to improve their customer experience, streamline operations, and save costs.
With these outsourcing customer service companies of 2023, your business can have access to highly skilled and trained professionals, the latest technology, and scalable solutions to meet your needs.
Well then, I think there's enough information on the list for you to make an informed decision.
As someone who has experienced and researched the benefits of outsourcing customer support, I highly recommend considering the 10 companies up there for your business needs.
Frequently Asked Questions (FAQs)