Understanding Customer Experience
Customer experience (CX) is a broad term that encompasses all interactions a customer has with a business throughout their journey.
It's not just about the quality of the product or service, but also the overall impression the customer has of the business.
This includes everything from the marketing materials they see before they become a customer, the sales experience, the quality of the product or service itself, and the customer service they receive post-purchase.
It's about creating a seamless, personalized experience that meets the customer's needs and exceeds their expectations.
The Importance of Customer Experience
Investing in customer experience is crucial for businesses in today's competitive market.
A positive customer experience can lead to improved customer retention, increased customer lifetime value, stronger brand loyalty, better brand reputation, and a more competitive advantage.
In fact, 81 percent of customers say a positive customer service experience increases the likelihood they'll make another purchase.
Conversely, a single bad experience can lead 61 percent of customers to switch to a competitor.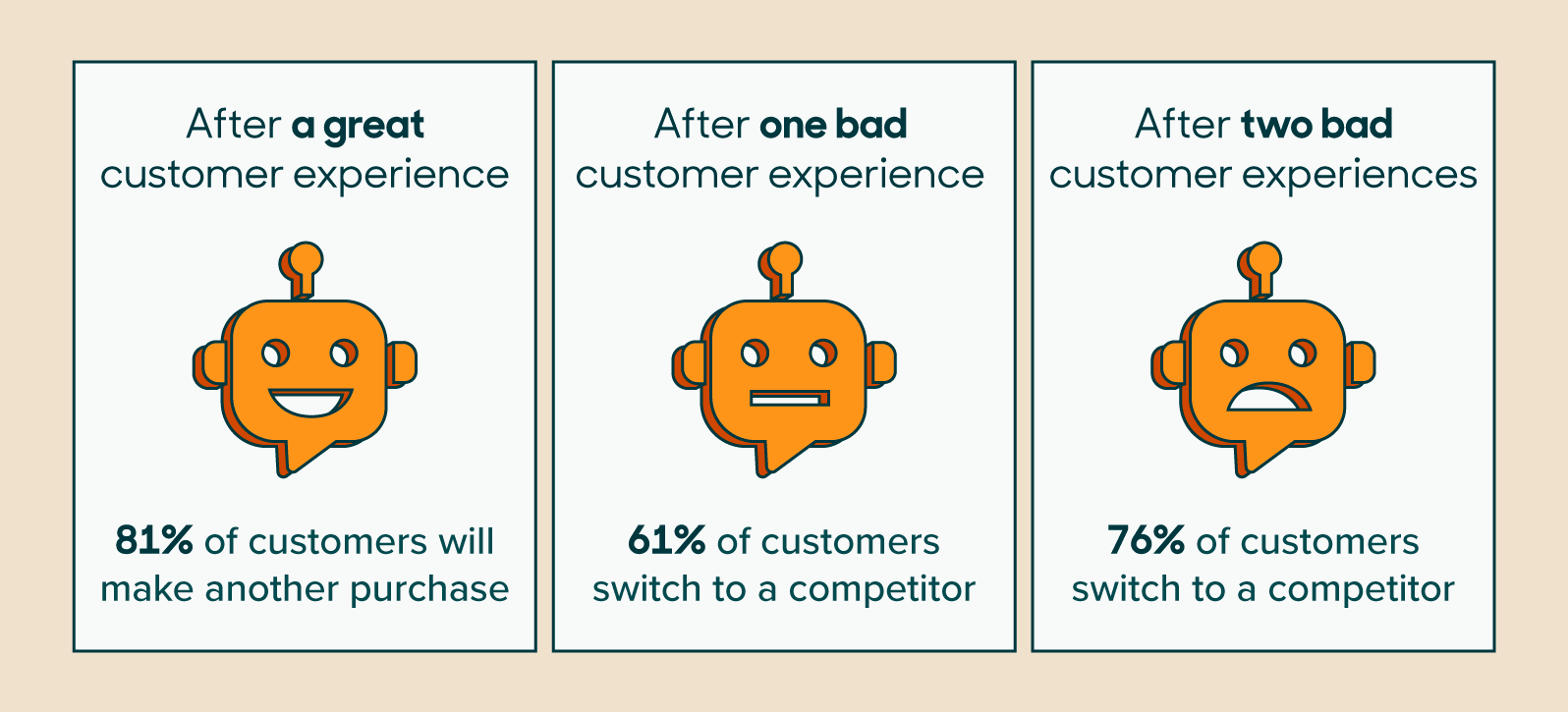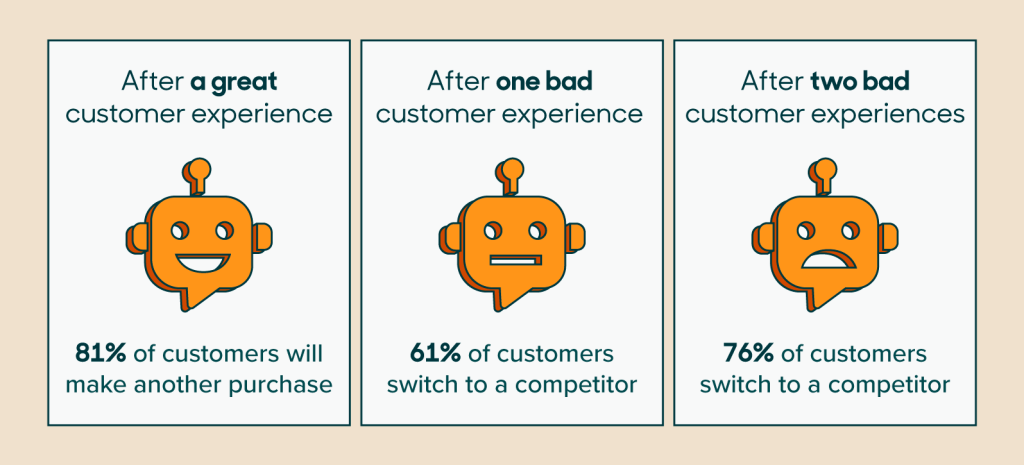 Customer Experience Management (CXM)
Customer Experience Management (CXM) is the process of measuring, analyzing, and improving the experience provided to customers.
It involves looking at the entire customer journey to identify pain points and devise strategies to resolve them.
This holistic approach to customer experience leads to customer satisfaction and loyalty, ultimately benefiting the business.
Good vs. Bad Customer Experience
A good customer experience is one that makes it effortless for customers to achieve their goals.
This includes easy-to-access self-help resources, proactive messaging around known issues, transparent pricing, always-available live customer support, short wait times, and intuitive product design.
On the other hand, a bad customer experience can be characterized by long wait times, complicated automated systems, lack of empathy from agents, difficulty connecting to customer service, and ignoring customer feedback.
Improving Your CX Strategy
Improving your CX strategy involves creating feedback loops, building an omnichannel experience, offering self-service options, providing personalization, empowering customers through AI, delivering proactive experiences, and using data and analytics.
It's about putting the customer at the center of your strategy and making continuous improvements based on their feedback and your data analysis.
Measuring and Analyzing Customer Experience
Measuring CX can be challenging due to its broad scope.
However, businesses can use tools like customer satisfaction surveys, quantitative data analysis, A/B testing, community forums, and feedback from customer-facing staff to gather data.
Analyzing this data effectively requires a holistic approach, considering how individual factors influence others.
This analysis should span across all areas of the business, including marketing, sales, product, and customer service.
Recommended: The Ultimate Guide to Customer Support Outsourcing 2023
75 Statistics on the Impact of CX
Customer Experience (CX) Importance and Impact
The primary competitive factor for 89% of businesses is customer experience (CX).
CX influences the purchasing decisions of 73% of consumers.
42% of customers are willing to pay extra for a friendly and welcoming customer experience.
Companies that prioritize customer satisfaction see 1.5x higher employee satisfaction, 1.6x higher brand recognition, and 1.9x higher order value.
72% of consumers will share a positive experience with at least six people.
A company can boost its revenue by 10-15% by enhancing its CX.
74% of customers might purchase a product solely based on a positive CX.
96% of customers believe that customer service is vital for brand loyalty.
89% of customers say they would switch brands after a bad experience, and CX influences over 60% of brand loyalty.
77% of customers who have a positive CX are likely to recommend the brand to a friend.
66% of consumers expect brands to understand and meet their needs.
32% of customers would stop buying from a beloved brand after a negative customer experience.
80% of customers feel more emotionally connected to brands that address their concerns through customer service.
Loyal customers spend 67% more compared to new customers.
AI and Technology in CX
85% of current customer interactions are powered by AI.
94% of shoppers believe that customer service needs to become more technologically advanced.
61% of businesses are increasing their support spending, particularly in omnichannel.
95% of enterprise technology executives believe AR solutions will help their companies better meet increasing customer demands.
According to 71% of businesses, the cloud has transformed CX.
Since 2012, the number of customers using live chat, email assistance, and phones has increased by over 50%.
By 2025, Artificial Intelligence (AI) is expected to drive 95% of CX.
47.5% of online shoppers from the US find that the biggest issue with chatbots and live chat is the high number of unhelpful responses.
B2B and E-commerce CX
80% of B2B buyers expect a purchasing experience similar to B2C customers.
B2B businesses that personalize their e-commerce experiences outsell their competition by 30%.
B2B companies offering e-commerce personalization record 30% more sales than their competitors who don't.
Customers who interact with brands on social media spend 20-40% more.
49% of shoppers make impulse purchases after a personalized experience.
Mobile and Online Shopping Experience
43% of modern customers contact customer service via mobile devices.
61% of shoppers wouldn't revisit a mobile site/app they had difficulty accessing.
40% of Millennials switch to competitor sites if they experience trouble accessing a certain site.
79% of modern customers are more likely to buy from brands that offer mobile customer service options.
62% of Gen Zers shop for products online via mobile sites or apps.
46% of Gen Z shoppers are willing to pay more for an item if it's sold by their favorite online store.
Over 55% of online customers aged 18-24 find poor product images and slow website loading times unacceptable, more so than other customer segments.
15% of Gen Z buyers exclusively shop online using their mobile phones.
45% of Gen Zers and 39% of Millennials compare prices on multiple shopping sites before making a purchase.
29% of Gen Zers prefer buying groceries online due to free and fast shipping, and discounts.
If customer service doesn't respond in time, 79% of buyers would abandon their carts.
According to 44% of online customers, the ideal response time for customer support should be less than 5 minutes.
A complicated checkout process would cause 83% of female and 77% of male shoppers to abandon a website.
Customer Reviews and Feedback
Nearly 92% of customers trust positive reviews from their family and friends more than advertising.
88% of customers trust online reviews as much as they trust reviews from people they know.
77% of buyers who have had a positive customer service experience are likely to recommend the brand to a friend.
13% of consumers who have had a negative CX would share it with about 15 people.
Almost 90% of American shoppers discuss their customer service experiences with others.
American shoppers share their positive CX experiences and refer the company/brand to almost 11 people.
CX Management and Business Strategy
97% of customer experience managers believe CXM is a business strategy that fosters loyal customer relationships.
89% of CX managers believe that customer experience management (CXM) improves customer satisfaction.
Organizations focusing on CX see an 80% increase in revenue.
Only 60% of marketers are concerned that their organization is at a disadvantage due to the lack of CX.
Organizations that prioritize CX achieve 4-8% more than their competitors.
Organizations that emphasize customer experience have 1.5 times more engaged employees.
Poor CX causes US companies to lose about $75 billion.
It's projected that 40% of data analytics projects will be able to predict the future of CX.
The value of customer experience is expected to rise by $641 billion by 2022.
Customers may be willing to spend up to 16% more on certain products due to good customer service, potentially leading to a 10-15% increase in revenue.
How We Wrote This Article
At HiredSupport, we're deeply committed to maintaining transparency in all our operations, especially in how we craft our content.
We understand how critical it is to provide accurate and trustworthy content, so here's a brief walk-through of our process.
To begin with, we harness the power of advanced artificial intelligence to collect data and statistics from a multitude of disclosed sources.
This AI-driven process allows us to gather an immense amount of information efficiently and accurately.
Once the data is collected, the same AI system aids in organizing the acquired statistics under various headings, as demonstrated in our articles, ensuring a logical flow of information.
However, the role of AI ends here. The vital part of ensuring accuracy and reader-friendliness is performed by our Content Head.
They meticulously review, fact-check, and edit the data, making sure it is accurate, easily understandable, and beneficial to you, the reader.
This process is scrupulously followed for every piece of content we create, ensuring what you read is not only engaging but also dependable and transparent.