You're doing it wrong if you're running a business and spending on marketing while ignoring customer service. It isn't too surprising to understand that the relationship between customer service and sales is direct. Good customer service leads to more sales, and bad customer service leads to lower sales – that's how customer service affects sales. Keep reading to learn this in more detail, and backed by statistics!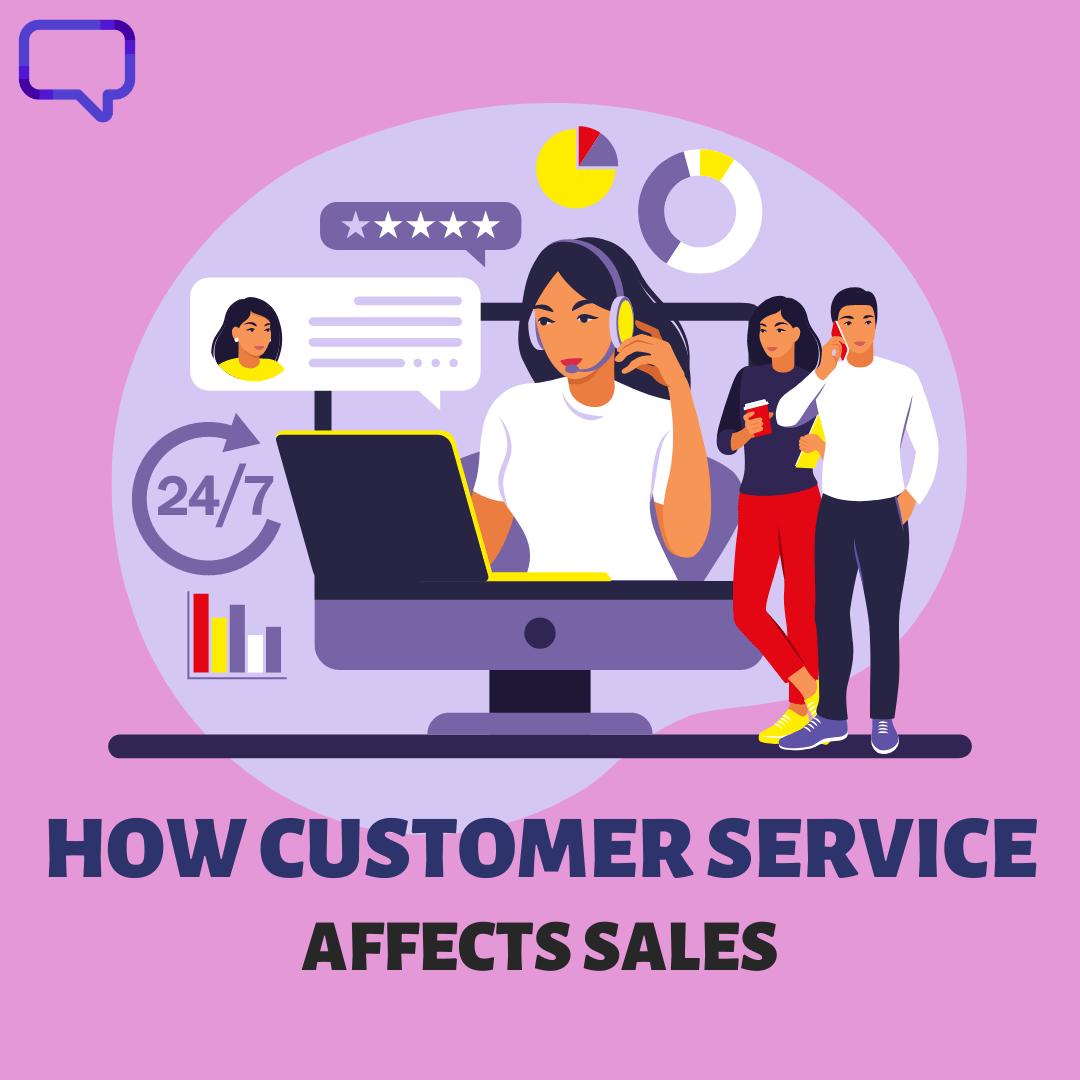 Customer service is the direct contact between the customer and the business.
It's the department that projects the first impression of your business in front of customers.
But that's just the pre-sale customer service, and it's a great, proactive step that you have in place.
However, the post-sale customer experience (CX) is equally important.
Post-sale customer service means that a customer contacts you once they've purchased your product or service.
They might need to inquire about some problem they ran into, or want to know about related products or services that you over.
According to the book Marketing Metrics: The Definitive Guide to Measuring Marketing Performance, customers who have previously bought from you upsell at a rate of 60-70 percent more often.
Consequently, customer retention is much cheaper than customer acquisition.
Even though it depends on the industry how cheap it can be, retaining an old customer can be five to seven times cheaper than acquiring a new one.
As a result, businesses can reduce customer acquisition costs by a mile if they prioritize their customer service.
Recommended Reading: 10 Key Differences Between Good and Great Customer Service
The Link Between Customer Service and Sales
Historical Perspective on Customer Service in Business
In ancient times, the communication between a merchant and a customer was direct and personal.
That meant a single negative experience could tarnish the merchant's reputation in the community.
As production increased during the industrial revolution, the contact between a customer and a businessman became increasingly indirect.
However, that didn't decrease the importance of customer service in any manner.
Similarly, with the advent of service-based industries, customer service became even more important.
That's because customers started to expect even more value from businesses than usual.
In my article that discusses the future of customer service, I have discussed how value enhancement will be the key measure of customer success in the future.
McKinsey has also revealed that improving customer experience creates value.
Consequently, an improvement in CX can boost sales revenues by 2 to 7% and raise profitability by 1 to 2%.
Modern Customer's Expectations
In marketing, social proof is one of the most important elements for its success.
Social proof means reviews, based on which customers can make a decision.
In the modern world, customers have access to the social proof of numerous businesses.
Therefore, they compare products, prices, and the social proof of businesses and look for the most suitable option.
Here, proactive customer support plays an important role.
For example, if the customer is undecided about a product or service, a customer support agent can guide them.
Live chat is a good platform to implement such proactive support.
A customer might be wandering about on your website when a customer support representative drops them a text through the live chat widget.
Through live chat, the agent can depict the value of whatever it is you're offering and make a sale.
This is just an example, but an important one since live chat fulfills another important demand of the modern customer.
Instant gratification is another expectation of the modern customer. They want instant responses and quick resolutions.
That's why the most important customer service metrics include first response time and first contact resolution.
The former refers to the response time to a customer's first contact, while the latter indicates if the issue was resolved in that first interaction.
In this context, it is clear how customer service affects sales in the modern world as well.
Must Read: How to Create and Implement a Customer Experience Strategy
How Customer Service Affects Sales
Overall Brand Experience (BX)
Brand experience (BX) is the impression potential customers get when they first interact with your business, while customer experience (BX) is the ongoing interaction of your existing customers with you.
Today, customers buy experiences, not just products and services.
Unless your brand sells holistic, feel-good experiences through every department of your business, you'll have difficulty acquiring and retaining customers.
Therefore, when the sales department brings in new customers, it is the job of the customer service department to retain them.
According to expert Frank Zinni, an MX scientist at Qualtrics, "[Brand experience is] how consumers interact with brands in real life, generating feelings, beliefs, and behaviors that result in comparative marketplace advantages that lead to more sales, pricing power, and resistance to competitive threats."
In short, a brand with a reputation for excellent customer service is more likely to attract new customers and retain existing ones.
In contrast, poor customer service can tarnish a brand's image and deter potential customers from making a purchase.
Higher Customer Retention
Michael LaBoeuf, a renowned American business author, said, "A satisfied customer is the best business strategy of all."
The key to improving customer satisfaction is building trust, resolving issues rapidly, providing personalized service, and creating positive experiences.
Businesses aren't perfect – there are problems and issues they come across.
The success of a business depends on how efficiently and effectively problems are solved and whether the customers are satisfied or not.
A responsive customer service team that resolves issues quickly and professionally can turn a negative situation into a positive one.
Thus, good customer service not only retains customers, it forces them to make repeated purchases.
Those repeated purchases could also comprise the premium options you've got available since existing customers are more likely to upgrade to such options.
Repeat Business
Repeat business is when existing customers purchase your products or services repeatedly.
Customer experience plays an immense role in enhancing repeat business for a company. Let's consider a personal example to explain this better.
We're all consumers in one way or another, and customer experience varies from one customer to another.
For me, a good experience as a customer is when I don't have to contact the company's customer support department at all.
I want my purchase process to be smooth and seamless.
From the awareness stage to the final stage when I complete the purchase, I don't want to have to contact customer service to understand something.
Any company that provides such a customer experience for me has made me a repeat customer.
For you, that experience might differ, and you might want someone to guide you throughout the process.
That's why the phrase personalized customer service is so commonly used throughout the world of customer service.
That means a direct increase in the number of sales and revenue your business generates.
Therefore, by now, you must be realizing how customer service affects sales.
Word-of-Mouth Referrals
A word-of-mouth referral is the most effective organic marketing tool out there.
The famous phrase used in the marketing world that satisfied customers are walking advertisements means something.
The importance of word-of-mouth referrals stems from the fact that the level of trust between the two parties is pre-established.
What that means is the person who refers a company to someone they know, also tell them why it'd be the right choice for them.
The other person most likely won't even consider other options, since the social proof is right in front of them.
So, the question is how does one increase the number of word-of-mouth referrals?
The answer is the same as what we've discussed above – a satisfied customer.
That's the beauty of customer service – it can turn an ominous situation into a positive one.
Just like "in the midst of every crisis, lies great opportunity", an unsatisfied customer is also someone who hasn't been dealt the hand of good customer service. 
Higher Average Value Orders
According to Shopify, businesses that provide proactive live chat customer support typically see an increase in their average order value (AOV) by 10% to 15% compared to those that don't offer this service.
That's because high-quality customer service fosters trust and loyalty among customers, making them more likely to make larger purchases from a brand they trust.
Similarly, good customer service representatives can effectively recommend related products or more expensive alternatives (upselling), or suggest complementary products (cross-selling).
As I discussed above, such positive interactions with customer service can create a pleasant shopping experience, encouraging customers to spend more.
In the same context, good post-purchase support (like easy returns or rapid problem resolution) can boost customer confidence, making them more likely to place larger orders in the future.
Recommended Reading: Top 5 Things You Need to Know About CX
Conclusion – How Customer Service Affects Sales
In conclusion, customer service impacts sales in a direct manner, as we've seen above.
You can choose to focus on your customer service and bolster sales or do the opposite.
In practical terms, it doesn't just have to do with increasing sales.
It's about going out of your way to initially provide a brilliant brand experience (BX) to the customer and then retaining that level of service to provide a brilliant customer experience (CX).
The link between customer satisfaction and sales growth is that satisfied customers are not only more likely to make repeat purchases but also refer the business to others as well.