In today's hyper-connected, customer-centric world, managing customer relationships effectively is no longer just an option but a necessity for businesses. According to a study conducted by Zendesk, 87% of customers think brands need to put more effort into providing a consistent experience. One strategic approach to achieving this is by leveraging inbound call center services. These services offer a myriad of benefits, from improved customer satisfaction to significant cost savings. Another report by Microsoft suggests that 61% of consumers stopped doing business with a brand due to poor customer service. Therefore, good customer service isn't just a luxury in 2023, it's a must-have!
Inbound call center services constitute a vital aspect of modern customer relationship management and are crucial for organizations across various industries.
An inbound call center is a customer service department that handles incoming calls from customers, stakeholders, or clients seeking assistance, information, or services.
Technology has greatly changed inbound call center services.
The growth of digital tools and the use of artificial intelligence have played a big part in influencing what customers expect and their overall experience.
Here's an overview of the various facets of inbound call center services as they stand in 2023.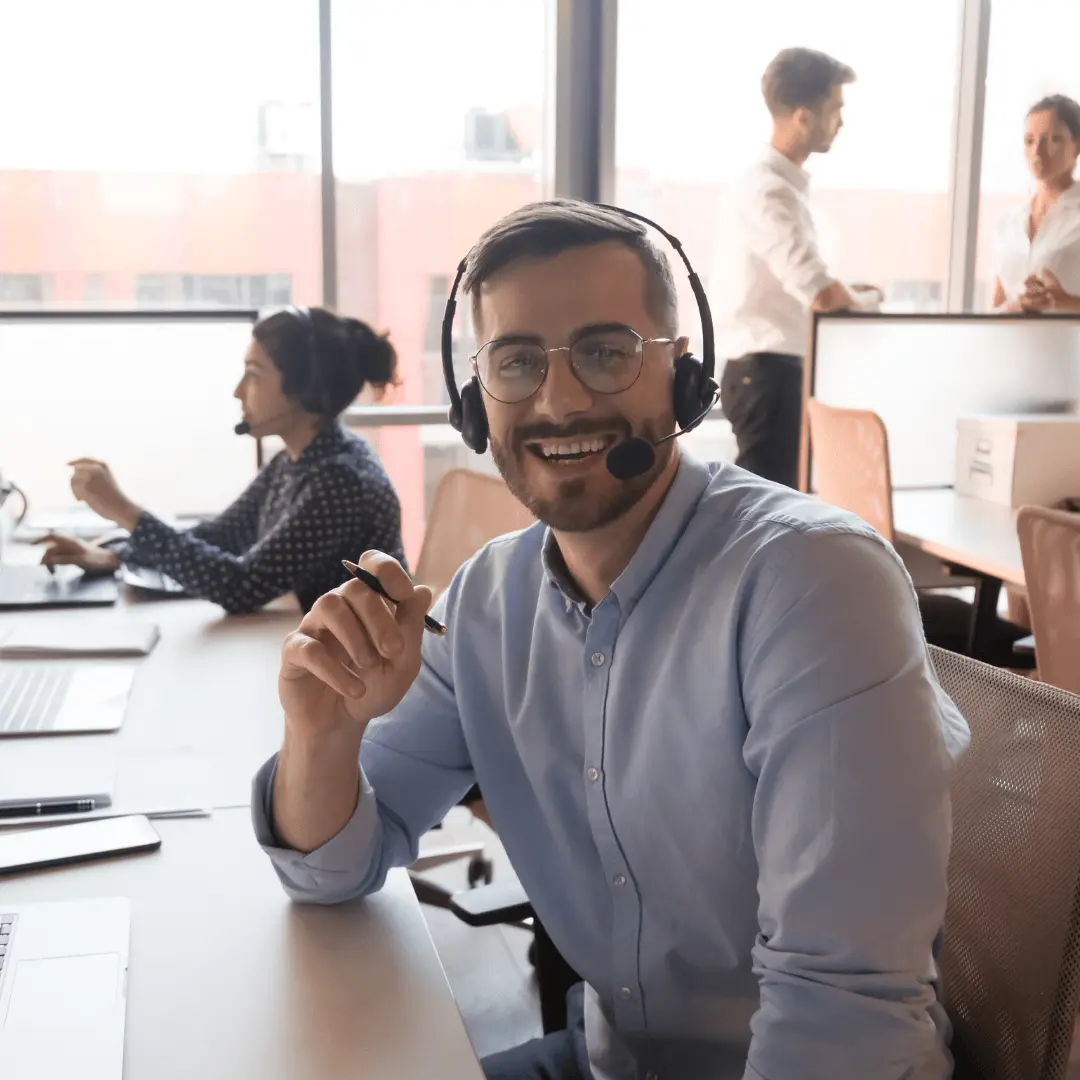 Overview
Customer Service and Support
The backbone of any inbound call center – customer service and support includes responding to customer inquiries, resolving issues, providing product or service information, and handling complaints.
The goal of providing high-quality customer support is to ensure high customer satisfaction and loyalty, which in turn drives growth and profitability.
Technical Support
Inbound call centers provide technical support to customers facing issues with products or services, particularly in the IT and software sectors.
This often involves troubleshooting, diagnosing, and resolving technical issues, providing guidance on product usage, and assisting with product installation or upgrades.
Order Taking and Management
Inbound call centers facilitate customers in placing orders for products or services, processing payments, and managing order fulfillment.
This could also involve handling returns or exchanges, tracking shipments, and updating customers on their order status.
Help Desk Services
Help desks are designed to offer specialized assistance and guidance to customers or employees.
This includes providing step-by-step solutions to problems, answering FAQs, and offering detailed explanations of procedures or processes.
Emergency and Crisis Management Services
Certain industries, such as healthcare, utilities, and security, require immediate response services.
In these cases, inbound call centers play a critical role in managing emergencies and crises, providing immediate assistance and guidance, and dispatching emergency services when needed.
Omnichannel Support
Modern inbound call centers have evolved from simply handling telephone calls to managing customer interactions across multiple channels, including email, live chat, social media, and SMS.
This omnichannel support approach provides a seamless customer experience, regardless of the platform or device the customer chooses to use.
Artificial Intelligence and Automation
The infusion of AI and automation technologies has had a transformative impact on inbound call centers.
Advanced IVR (Interactive Voice Response) systems can now handle simple customer inquiries, route calls to the appropriate department, and even resolve issues without human intervention.
AI-powered chatbots and virtual assistants provide 24/7 support, reducing wait times and improving customer satisfaction.
Meanwhile, AI-enhanced analytics help in understanding customer behavior and improving service quality.
Data Security and Privacy
With stringent data protection laws and growing customer concerns about data privacy, inbound call centers now prioritize robust data security measures.
This includes implementing secure data handling and storage practices, ensuring compliance with regulations like GDPR and CCPA, and regularly training staff on data privacy norms.
Remote Working and Virtual Call Centers
The Covid-19 pandemic triggered a significant shift towards remote working, including in the call center industry.
This led to the rise of virtual call centers, where agents can work from anywhere, providing greater flexibility and scalability.
The advancements in cloud technology and VoIP (Voice over Internet Protocol) have made this transition seamless, ensuring uninterrupted service delivery to customers.
Benefits of Inbound Call Center Service
Inbound call center services are important because of their cost-effectiveness.
They take the hassle and expense out of running an effective customer service team.
They could also help you boost your social media marketing, email marketing, or even display advertising efforts.
On top of this, there's an opportunity cost associated with hiring a customer service team.
You have to devote resources to training, scheduling, and so on, which detracts from other company objectives.
Furthermore, the majority of inbound call center companies are CRM-based. They collect data and activity on clients.
Better And More Flexible Solutions
Most customers will try to reach you by phone before going to your physical location.
If your business is running on a very tight schedule, you might have to ask customers to call your business directly.
That could require going back and forth with customers until they give up, or trying to reach them over email or through social media channels.
You wouldn't want to do that to your customer. An inbound call center can offer more flexible solutions that save you time and effort.
Large numbers of customers want to call your business via landline, but they find it difficult to do so.
This is due to different aspects of their phone and computer behavior, as well as their expectations about what it means to contact a business. But, inbound call centers can solve these problems.
They are able to screen new leads so that the calls are handled in a way that's efficient for the callers. This is a great use of your time, and you will earn valuable new leads.
Manageable Customer Support
Inbound call centers provide customer service for businesses like yours. Callers don't have to deal with customers who only have a few questions.
They have real issues to deal with, like broken machines or websites that need repair.
These call centers allow callers to speak directly to the experts at the company that's fixing their problems.
If your business is struggling with customer service issues, you're definitely not alone.
According to a survey conducted by GoDaddy and Javelin Strategy & Research, 64% of consumers will not refer a business to a friend if the customer service experience is poor.
A subpar customer service experience is likely to be a deal breaker.
As a business owner, the biggest problem is that most business owners don't realize how critical customer service is to the success of their businesses.
They tend to focus on their products and services and fail to pay attention to what their customers really need.
Luckily, technology has come to the rescue, making it possible for business owners to outsource their customer service needs, in a cost-effective way.
In today's globalized world, customers might need assistance at any time of the day.
Inbound call centers often offer round-the-clock support, ensuring that customer needs are met promptly, regardless of the time zone.
If you've got customers from different parts of the globe, having a dedicated inbound calling department is a must for you.
Data Collection and Analytics
Any customer service department, including call centers, has access to a lot of customer analytics and data.
This can be used to your benefit. For example, if a business outsources its live chat to us, we keep the customer record and their history.
Based on that data, we provide personalized responses to the customers when they return. 
This helps us provide excellent customer service for that business and keep the customer satisfaction scores (CSAT) to a maximum.
That's not all, customer records and analytics also help with understanding customer behavior and making those changes based on their feedback.
Recommended: Benefits of Outsourcing Live Chat Agents
Conclusion – Importance of Inbound Call Center Services
To conclude, inbound call center services have evolved beyond traditional voice support, incorporating digital channels, AI, and data analytics to deliver superior customer experiences.
The focus has shifted from reactive problem-solving to proactive customer engagement, with personalized, timely, and efficient service being the key differentiators.
As technology continues to advance, inbound call centers will continue to play a crucial role in shaping customer relationships and driving business success.
Note: Shamoon Younas contributed to a previous version of this post.