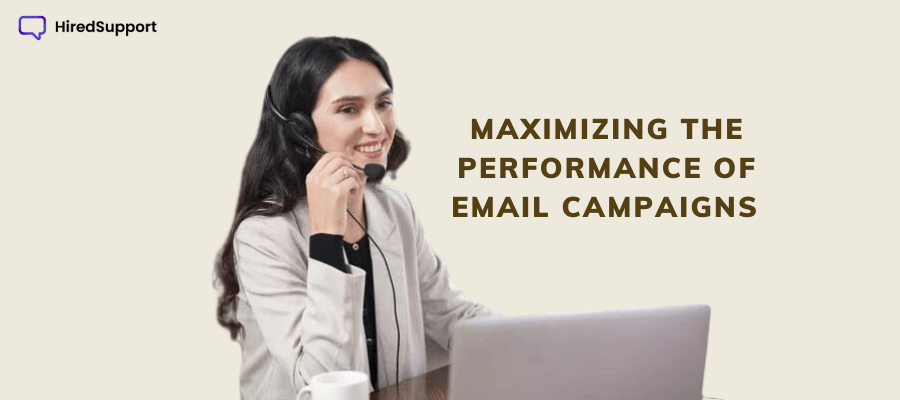 To know how to maximize the performance of your email campaigns, you first need to understand what contributes to their success.
As a digital marketing expert with about four years of experience in crafting successful email campaigns for brands across industries, I'll share some key strategies to help you maximize the performance of your email campaigns.
This guide provides actionable, data-driven strategies to optimize your email campaigns.
From crafting engaging subject lines to leveraging A/B testing, we'll delve into techniques that have proven successful in my years of experience and are supported by industry research.
The three most important elements of an email campaign's success are list quality, subject line, and sender reputation.
According to a study by Convince & Convert, 35% of email recipients decide whether or not to open an email based on the subject line alone.
Let's take a closer look at each of these factors to understand better how they affect your email campaigns' overall performance.
What are Email Campaigns?
Email campaigns are when you send a targeted set of messages via email to a particular audience.
Any organization investing in digital marketing will have a proper email campaign strategy since it is a form of direct marketing.
Email campaigns can be used to serve various purposes: 
Promoting products or services
One of the most common uses of email campaigns is to promote new products or services.
By delivering compelling, targeted messages straight to the recipient's inbox, businesses can spotlight new offerings, announce sales, or share special promotions.
A 2019 study by the Data & Marketing Association reported that for every $1 spent on email marketing, businesses can expect an average return of $42.
While my experience hasn't been as profitable as their research shows, it has definitely been close and is understandable.
Building relationships
Email campaigns are an excellent tool for cultivating relationships with customers.
If you're a digital marketer, you must be aware of how email campaigns can help you get those juicy, high-quality backlinks.
Personalized content, tailored to the recipient's preferences and past interactions, can create a sense of connection and trust.
By sharing engaging, value-driven content, businesses can foster strong relationships with their customers, encouraging brand loyalty and repeat business.
Educating the audience
Email campaigns can also serve an educational purpose.
By offering valuable content that informs customers about industry trends, useful tips, or product usage, companies can position themselves as thought leaders in their field.
This not only provides value to the customer but also enhances the brand's credibility and trustworthiness.
Encouraging customer loyalty
Emails can effectively direct recipients to a company's website or specific landing pages.
By including strategic calls-to-action and links within the email content, businesses can drive increased website traffic, potentially leading to higher engagement and conversions.
Driving traffic to a website
By regularly sending out newsletters or updates that contain links to new blog posts, product updates, or other relevant content on your website, you can encourage subscribers to visit your site.
8 Ways to Maximize the Performance of Your Email Campaigns
Decide Where You Are In The Buying Cycle
Where you are in your prospect's buying cycle will help determine what type of email marketing campaigns you run.
To maximize your campaign performance, it is critical that you know whether you're trying to attract new prospects or deliver an offer to existing customers.
In other words, don't spam people who have already opted out of receiving your messages.
Also, try not to overdo it with transactional emails, and remember that buyers want a balanced amount of education and value for their time.
Marketing yourself effectively means doing everything you can to attract new customers and avoid spamming those who have already opted out.
If you're trying to reach existing customers, you don't want to send too many messages or overwhelm them with too much information.
Make sure your emails offer value and showcase your expertise in a way that allows them a chance to make an informed decision. Keep emailing habits balanced, informative, and relevant!
To maximize your email marketing campaigns, you must know where prospects are in their buying cycle.
Remember that your sales copy and subject lines should match up with where your leads are in their buying process.
If they're new to your website, offer them some primary education about why they should care about you and what you can do for them.
Then, get into specific details about what makes you different from other vendors or providers out there.
Organize Buyer Personas For Better Targeting
Organizing your buyer personas into lists can help you separate and group your clients based on their role, industry, or any other category.
This lets you target them more specifically with emails about deals or special offers.
Just make sure to focus on each list separately in future email campaigns—mixing product lines is a great way to end up in spam folders.
 Separate your buyer personas into separate lists. By segmenting them, you can create targeted email campaigns for each persona.
Write Emails That Hit Emotional Hot Buttons
The best way to increase engagement is by writing emails that evoke an emotional response.
Hot buttons include urgency, scarcity, exclusivity, and humor.
With every email you send, ask yourself: what emotion does my reader need to feel? What do I want them to do next? What's in it for them?
Look at your competition and note what buttons they're hitting.
Understand your reader's hot buttons.
For example, what makes a customer open an email? It might be urgency, exclusivity, or a promotion.
What do you want them to do once they open your email? Read a new post?
Visit your website for more information. What does that accomplish for you as an organization and a marketer?
Remember, it's not about opening emails—it's about engaging customers and moving them along in their journey with you.
Include a call to action.
Once you know what emotion or activity you want your audience to feel or take, include a clear call to action that reinforces that emotion.
Ask readers what they think about it—give them an opportunity to provide feedback and share their opinions.
That kind of interactivity encourages readers to stay in touch with your brand, which is always suitable for building trust and loyalty in customers.
Make your call to action impossible to ignore.
One way marketers can get their audience's attention is by making a call to action impossible to ignore.
That could mean using a big, bold font or including an image that demands attention.
It could also mean using unusual formatting—perhaps having a list instead of paragraphs or using all capital letters for emphasis.
Test Long And Short Subject Lines
The subject line is just as important as the content of your email, so you must test different lengths and types to see what resonates with your audience.
One way to conduct a successful test would be by A/B split, trying two or more subject lines for one piece of content (i.e., two shorter versions, two more extended versions, etc.).
According to a report by HubSpot, companies that A/B test every email see email marketing returns 37% higher than those of brands that never include A/B tests.
This may sound time-consuming, but there is a significant opportunity cost involved in what you could be doing instead for every email you send out.
By splitting up your testing over multiple days, weeks, or months, you can ensure that you are getting feedback as quickly as possible.
There will also be diminishing returns after a while, so try and keep your test sizes manageable so that you get meaningful results.
Check Your Images For Readability
You only have a few seconds to get your message across in an email, and that's why you must make sure your images are legible.
This means not cramming text into small spaces, choosing images with enough contrast between text and background, and avoiding too much clutter on any given screen.
If potential customers have trouble understanding what they see in your email, they might lose interest in reading it.
Let's look at some legible email images, but they could still be improved.
In both cases, you'll want to make sure you add enough space around any text.
This is true for image headers as well as your lead paragraph or bullet points in any given email campaign.
Incorporate a Call-to-Action Button in Every Email
Whether you have an email list with thousands or just a handful of recipients, a call-to-action button should be included in every message you send.
A call-to-action can be as simple as Signing up for our newsletter or as specific as Buy Now and Receiving 20% Off. Including one in every email will increase response rates and sales.
The best place for a call-to-action button is within your subject line. This will get people's attention when they see your email in their inbox.
If you want to use more than one call-to-action, try combining one with a sense of urgency.
Including a call-to-action (CTA) button in every email allows you to constantly direct subscribers toward completing a specific goal, such as requesting more information or purchasing a product.
It's also an effective way to fight spam filters and open your emails! And if someone clicks on your CTA button, it shows that they are interested in what you have to offer, including some reward.
Include a clear, concise CTA in every email. Research shows that if you want people to take action on your emails, it's essential that you give them a prominent call to action.
Keep your CTA button simple and eye-catching, but not so much that it distracts from your brand or message.
Think about what your subscribers really need from you: Is it contact information? An event registration? A link to download an eBook?
Vary Opt-in Methods To Get More Leads
It's essential to use different opt-in methods in your email campaigns so you can maximize your results.
If one particular way isn't working, switch it up with a different one.
This can be applied before, during, and after each campaign you run. Give each type of opt-in a fair chance – pick one primary strategy and stick with it until your numbers get high enough.
Understanding your target market and figuring out which method they're most likely to respond to.
If one particular strategy isn't working, it doesn't mean that you have a nasty campaign or a bad business.
It simply means that you need to move on and use another opt-in method until you hit upon one that works well for your audience.
Email campaigns are one of the best sources of lead generation.
Track, Test, and Refine as Necessary
There are many things you can do with email campaigns—start tracking your results, test out different subject lines and other variables, and refine your process as you see fit.
To maximize your email campaigns' performance, track everything that goes into them; once you get a handle on what's working, run more tests and implement those elements in future email campaigns.
If you can learn from your email campaigns' performance, you can do more than just maximize what you get out of them—you can also lower your costs and cut down on spam complaints by implementing best practices.
If a particular series of messages generate many spam complaints, test sending it at different times or in smaller batches.
You may find that an email has a better open rate if it's sent later in your marketing cycle.
Conclusion
Don't forget that once a customer arrives on your website vis-a-vis an email, their journey doesn't end there.
You need to provide them with a seamless experience when they're on the website as well.
By consistently delivering valuable and relevant content to your subscribers, you can use email marketing to drive significant traffic to your website.